This picturesque city is a beautiful and diverse location for filming.
The charming Old Town spans the River Limmat and Lake Zurich reflects the majestic Swiss Alps towering in the background. Not only is Zurich pretty, but serious business goes on here with billions of Euros being shuffled between secret bank accounts underground. And as quality-made goods scream "buy me" from elegant boutique windows, pay attention to the price – Switzerland's not renowned for its bargains.
Hollywood Trivia
Many scenes in The Bourne Identity (1988) were shot at the famous 'Bahnhofstrasse' in Zürich. The sequence of Jason Bourne (Richard Chamberlain) running from the Bank into the Tram was filmed at 'Paradeplatz'.

Weather
Summers are hot and winters are chilly – just like you'd expect! July temperatures range between 15°C (59°F) and 30°C (86°F), but be prepared for rain even in the peak of summer! Come January, you need to rug up for outside temperatures ranging between -10°C (14°F) and 5°C (41°F).
Language
Hello.
Grüezi.
Where is the toilet?
Wo isch's WC?
Where is the nearest bar?
Wo isch dia nögschti Bar?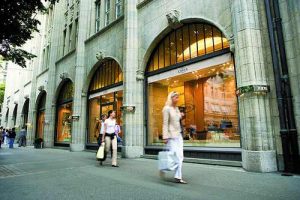 Excuse me we are filming, could you please move out of our shot? Thanks.
Exgüsi, mer sind am filma. Chöned Sie a bizeli uf z'sita? Danka.
Do you mind if we film you?
Exgüsi, dörfed mir sie filma?
Emergency Contacts
117 Police
118 Fire
144 Emergency medical assistance
140 Road Assistance (vehicle breakdown)
The Emergency Center in Zurich is a 24-hour referral service with English-speaking operators and provides medical advice and house calls 24 hours a day. Phone 044 421 21 21.
The Permanence Zurich is provides urgent medical care without needing an appointment. Open daily from 7am to 11pm. It is located at the main train station – Bahnhofplatz 15, 8001 Zurich, 044 215 44 44.
Food & Drink
When in Switzerland, do as the Swiss do – eat cheese! After a long day filming, get the crew together for a cheese fondue (usually bread dipped into a simmering pot of melted Swiss cheese!)
A local Zurich dish worth sampling is Geschnetzeltes – small pieces of veal cooked with cream, mushrooms and white wine, served with noodles or rösti.
A few safe bets for a nice meal are:
Restaurant Kronenhalle, Rämi-Strasse 4, 8001 Zürich
Kaufleuten, Pelikanstrasse 18, 8001 Zürich
Film-worthy Events
The Sechseläuten festival has been going strong since the early 20th century!
It's time for Zürich to celebrate the onset of summer, and what better way to do it than to burn a towering snowman effigy symbolizing winter!
Following the traditional parade,
the so called 'Böögg', which is packed with explosives, then ignited while crowds watch on in excitement.
The Street parade is one of the largest techno parties in the world and the Zurich's biggest weekend on the events calendar – usually occurring on the second weekend in August. Hundreds of thousands of techno fans from across Europe flock to Zurich to be apart of the buzz and watch decorated parade floats, otherwise known as Love Mobiles making their way through the city.