30 years after the fall of the Berlin wall which divided east from west, the German capital is now a melting pot of ethnic and cultural diversity peppered with creativity and freedom.
Daily life bustles around landmarks weighted with political and historical significance (the Reichstag, the Brandenburg Gate, Checkpoint Charlie etc).
Cafés overflow with trendy lefties and dance clubs pump techno beats into the wee hours of the morning. There's a myriad of reasons you could be filming in Berlin, and every one carries the potential of beautiful footage!
Weather
The summer months (June, July and August) are a comfortable temperature in Berlin (usually around 25°C/ 77 ºF). Likewise Spring and Autumn are beautiful with golden foliage and clear blue skies to be expected in October. Outside filming in the winter months (December to February) can be bone-chilling with icy winds blowing in from Russia sending the mercury plummeting (to an average of -.2°C/31.64 ºF in January). Rainfall is relatively low but possible all year round.
Hollywood trivia
Berlin is no stranger to Hollywood film sets! The Bourne Supremacy, The Constant Gardner, Mission Impossible III and The Pianist are just a few of the big titles whose stars have performed against Berlin backdrops. From Renee Zellweger making an emergency cosmetics shopping trip at the KaDeWe department store to Paris Hilton hitting up Maxxim Nightclub for a bit of pole dancing – It's not uncommon for A-listers to be spotted in this city.
Language
Hi, how are you?
Tach, wie jehts dia?
Where is the toilet?
Wo kann man hier pinkeln jehn?
Where is the nearest bar?
Wo isn die nächste Kneipe hia?
Excuse me we are filming, could you please move out of our shot?
Tschuldijung, wir drehen hia, kannsta ma vafatzen?
Do you mind if we film you?
Hastn Problem damit wenn wa dir filmen?
He's a fake (No hair on his head, but a comb in his pocket).
Keene Haare uffm Kopp aber n Kamm ina Tasche.
He's a gen
ius (He has something in the pan).
Der hat wat auffa Fanne.
I don't care.
Dit is mir schnurzpiepe.
Emergency Contacts
Dial 112 (from anywhere in Europe) for medical, fire and police emergencies (however, 110 will also connect you directly to the police)
Berlin has a special "Call a doctor" service: 01804-22 55 23 62 (costs 0,24 Euro per minute from German landlines).
Most pharmacies display the address of the nearest 24-hour pharmacy in their shop windows. If a 24-hour pharmacy appears to be closed simply ring the bell and the on-duty pharmacist will answer. The 24-hour pharmacy/medication helpline is: 01189
Food and Drink
The most famed Berliner dish is the "Currywurst" – a spicy sausage with curry flavoured tomato sauce. You'll find it in pubs and at fast food stalls everywhere. If you're really captivated by the taste and want to learn more about the history of this speciality, visit the Deutsches Currywurst Museum (Schützenstraße 70, 10117 Berlin Mitte).
Eisbein mit Sauerkraut is a pork knuckle on a bed of sauerkraut – the thick layer of crispy crackling means this dish is not the best choice if you're watching your waste line. It goes well with the typical Berliner Weisse – a refreshing, slightly clouded, low alcohol beer with a subtle lemon flavour.
Don't leave Berlin without scoffing down "The Berliner" – a round doughnut with jam filling, sprinkled with icing sugar. "The Berliner" is popular throughout Germany too, but within Berlin the locals often call it Pfannkuchen.
Film worthy events
In January Berlin is about models, catwalks, Glitz, Glam, what's hot and what's not, all being visually consumed at Fashion Week. Whether you want b-roll of freakish outfits that no normal person would wear in public, or an in-depth profile of funky designers, get Camera Crew Germany on the scene to help!
From June through August, although there is no beach to be
found in Berlin, a giant sand-pit is dug in the heart of the city.
The sand is first compacted into a form which can be sculpted like soft stone, ready for sculptors from around the globe to claim their patch and begin carving their sand-masterpieces.
The Berlin Marathon is now the second largest in the world and is one of the four "world marathon majors"! Both amateur and professional runners alike flock to the German capital to run this course on the last weekend of September.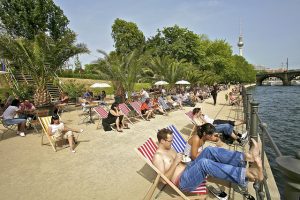 It has come a long way since the first race in 1974 – the winner of which is a true Berlin legend well worth an interview and feature-story…at 67 years old Günter Hallas is still taking part!
A treasure to look forward to in the bitter winter month of February is the "Berlinale" (the Berlin Film Festival). It's considered the largest publicly-attended film festival in the world with up to 400 films being screened and around twenty films competing for the Golden and Silver Bear awards.