Home to carnival craziness, Kölsch beer and the magnificent Cologne cathedral – this city makes for a fun and aesthetically pleasing place to shoot!
With its towering gothic church spires dominating the skyline, and the Rhine River snaking through the city, there is no shortage of a good backdrop in Cologne. The old-town's cobblestoned streets are bustling with locals and tourists alike and lined by rows of old colourfully painted houses – many of which have been converted into cafes and bars.
Hollywood Trivia
The twin towers of Cologne's cathedral feature in a montage scene at the beginning of Pearl Harbor. A narrator explains the start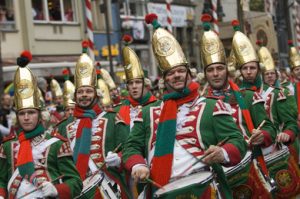 of the war in Europe, referencing the invasion of France in 1940. However, any well educated military equipment expert would notice that the American tank shown in the shot did not arrive in Europe until 1945, and hence could not have been in Cologne at that time! As for the rest of us, we couldn't care less!
Weather
Temperatures in cologne range between an average of 2°C (35.6°F) in January and 18.7 (65.7°F) degrees in July. Although summer temperatures remain fairly mild, overall the region is one of the warmest in Germany. The number of sunshine hours is below average and instead, overcast days with above average humidity levels are typical.
Language:
Although many people speak a basic level of English, and high German (Hochdeutsch) is also understood, trying your hand at the "Kölsch" dialect might win you points with the locals. Here are a few questions and phrases that might come in handy:
Tach, wie ess et üch?
Hi, how are you?
Wo ess dä Abtrett?
Where is the toilet?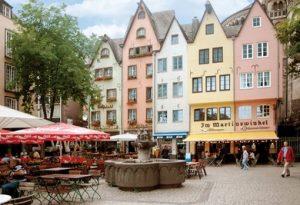 Wo ess de nächste Weetschaff?
Where is the nearest bar?
Entscholdigung, mer dunn he filme, künnt ehr viellleich ens us däm Beld jonn?
Excuse me we are filming, could you please move out of our shot?
Hatt ehr jet dogäge, wenn mer üch filme däte?
Do you mind if we film you?
Jede Jeck ess anders!
Everyone is different! This is a local saying which reflects the attitude of tolerance towards whatever is strange/bizarre/eccentric. "Jeck" refers to someone in disguise, often associated with Carnival celebrations!
Et ess, wie et ess und et kütt, wie et kütt. Un et hät noch immer jotjegange
Things are as they are and they come as they come, and always work out well!
Emergency Contacts
Emergency/Fire – Dial 112
Police – 110
Cologne Central Police
Walter-Pauli-Ring 2-6
51103 Köln
Phone: 0221/229-0
Food & Drink
Plastic airplane and hotel meals get very boring very quickly – so after a long day's shoot, escape the tourist traps and find a bar/restaurant frequented by the locals. Cologne has around 30 different brands of the famous local beer, called "Kölsch" and many traditional, old-fashioned brew-houses "Brauhäuser" with traditional food also on offer!
Our Cologne-based crew recommends:
Em Golde Kappes (The Golden Cabbage) – Neusser Straße 295, 50733 Köln-Nippes, Ph 0221-92292640
Früh em Veedel – Chlodwigplatz 28, 50678 Köln, Ph 0221 3992581
Or if you're happy to rb shoulders with other tourists head to the large and very central "Brauerei zur Malzmühle" – Heumarkt 6, 50667 Köln, 0221-210118
When confronted with a menu in a foreign language, it's always difficult to know what you're in for! Here is our pick of local cuisine to sample while in Cologne: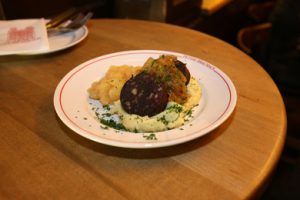 Himmel un Ääd – translated "Heaven and Earth", consists of Apples (Heaven) and potatoes (Earth) boiled and mashed
together and served with fried blood sausage.
Halve Hahn – Special Cologne rye bread roll with a thick slice of medium-old Dutch Gouda Cheese.
Hämche mit Sauerkraut – Knuckle of Pork with sour Cabbage – very fatty!
Rievkooche – Grated raw potatoes fried into a pancake/fritter, served with cold apple puree
Film-worthy Events and Locations
Carnival – Feb or March
Cologne is a carnival hot-spot! "The crazy days" (characterised by colour, costume, drunkenness and madness) begin on the Thursday before Rose Monday and end on Ash Wednesday. During this time, locals and visitors alike take to the streets wearing outrageous outfits to watch the famous cologne carnival parades. This is one occasion when the traditionally "straight" Germans show their wild side! Without the help of our local producers/fixers and camera crews, shooting during Carnival can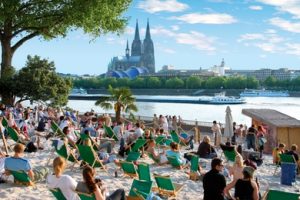 be a logistical nightmare! So tap into our experience and inside knowledge to  bring order to the surrounding chaos!
Picturesque castles and vineyards – best filmed in the warmer months (May – Sept)
Cologne is situated in the Rhine Valley, which is sprinkled with medieval castles, traditional villges and vineyards producing some of Germany's most famous wines. With filming equipment in hand, these magical locations are most easily reached from the city by boat or car.