You want to hire a cameraman in Europe? Look no further. You have come to the right address!
We have guys and gals that can smile, laugh and make your shoot an enjoyable and rewarding experience. Our camera crews and videographers are locals and know their way around town! We have local cameramen in all major cities in germany and in most European countries.
Whether you want to shoot a corporate video, commercial ads, trade fair coverage, etc. – we've got the right cameraman to fit your needs! Just contact us to get a quote! Ours are the best you can get!
We take care to select well-seasoned, experienced and talented crew members who are either native English speakers or at least fluent. We're a friendly bunch too and mix English humour and creativity with German reliability and efficiency.
Tell us where and when and we will give you a price. Satisfaction guaranteed!
We have been providing English speaking camera crews and videographers shooting in and around Frankfurt since 1993. Our clients come mainly from the UK, USA, Canada, Australia, New Zealand, Italy and Scandanavia.
We've even had the honour to shoot for Lucas Films, the creators of Star Wars from the USA as well as a few scenes in Frankfurt for Greyzone, a TV series that was internationally funded and gained big success in Europe.
We can offer crews for the following:
Company profiles
Documentaries
Automobile tests
Conference coverage
Technology shoots
Pharmaceutical shoots
Music videos
Sony FX9
Sony F55 and Sony F5
Sony FS7
Sony A7sii
Canon C300
Canon 5D
XDCam EX and XDCam HD
Sony F800
Sony PMW 300 and Sony PMW 200
Red Epic
Arri Amira
Alexa & Alexa Mini
Slow Motion & High Speed cameras
Furthermore a wide range of state of the art grip and lighting equipment:
Dollies
Jibs
Sliders
Gimbals
LEDs
HMIs
Kinoflos
Litepanels
Dedo lights
Diva Lights
PanAura Octodomes
…and many more!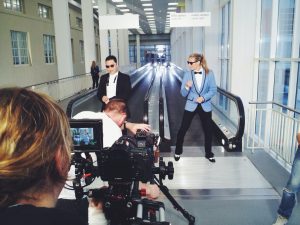 No job is too big or too small. Our crews range from a one man band set up to full blown crews with all the bells and whistles. No problem either if you're looking for a videographer, sound recordist, gaffer, grip, make up artist or producer.
Is there a difference between a camera operator and a videographer? Our clients require camera crews for all kinds of shoots. Usually a videographer is a term mainly used in the US while our UK clients preferably use the word cameraman. Either way, we understand your language and will make sure nothing gets lost in translation so we find the perfect camera crew for your shoot!
Try us out – you wont regret it!!
Here are some of our regular clients:
McKinsey, CTN, Flawless Media, Jack Morton, Merchant Cantos, Maverick, The Edge, Adidas, Audi Sport, Catherine Turner, Integrated Talent, Microsoft, Gartner, Goldman Sachs, Deutsche Bank, Ex Libris, Daily Planet Canada, Discovery, BBC (we are approved suppliers), ITV, SNTV, Bloomberg, Seven Network, RAI, etc.
Call us now: +49 69 538690
(toll free from the USA: 1-866-843-2987)