This ancient city needs no introduction…
…with centuries of history represented by a stack load of famous monuments crammed into a buzzing inner city hub, Rome has no shortage of film locations!
Along with the familiar Colosseum, Vatican, Pantheon (the list goes on) there are thousands of less obvious backdrops to be found. Some of the best are nestled in the maze of apartments, cafes and squares where locals stroll, argue, sell and whizz past on scooters.
Tips for filming
Never leave anything unattended anywhere anytime.
It's impossible to 'park and shoot
' so make sure you're prepared to pay for a driver to look after your car and gear (of course we are happy to arrange this service). Likewise the permit process in Italy is usually a mission, so our savvy local crew & fixer will solve those hassles for you.
Weather
Temperatures soar in the summer months, and with those big stone buildings retaining the heat, filming in July and August with temperatures hanging around 30°C (86°F) can be sweaty and uncomfortable! Romans recommend the best time to visit is from mid-September to October. The weather can be unpredictable from November to February but tends to be generally mild (temperatures dip to a low of around 3°C (37°F) in January), although heavy rain and icy winds are not total strangers to the city.
Hollywood Trivia
The 1999 thriller 'The Talented Mr. Ripley' (starring Matt Damon, Gwyneth Paltrow and Jude Law) has several Roman locations worth noting – Ripley stayed in the St Regis Grand Hotel (Via Vittorio Emanuele Orlando 3) and the cafe where Freddie turned up is on Piazza Navona (opposite Bernini's Fountain of the Four Rivers).
Language
Where is the toilet?
Dov´e´ il bagno?
Where is the nearest bar?
Dov´e´ il bar piu´ vicino?
Excuse me we are filming, could you please move out of our shot? Thanks
Ci scusi, stiamo filmando. Puo´ spostarsi dalla scena, per cortesia?
Do you mind if we film you?
Le dispiace se La filmiamo?
Emergency Contacts
113 – Emergency Police/Ambulance/Fire
Rome American Hospital have multilingual staff and provide expatriates with assistance to get reimbursement from major insurance companies.
Internet: http://www.rah.it
Phone: +39/06 22551;+39/06 2255290
Address: via Emilio Longoni 69
00155 Rome
Food and Drink
The most popular traditional Roman Pasta dishes include 'Spaghetti alla Carbonara' (made with pecorino cheese, guanciale, parmigiano cheese, black pepper and eggs) and 'Bucatini all Amatriciani' (made with guanciale, pecorino Romno cheese, tomatoes, chili peppers, black pepper and wine). You'll find these dishes and much more at Ai Spaghettari (Piazza San Cosimato 58 in Trastevere) has plenty of outside tables to eat at while watching the market in Piazza San Cosimato.
If pasta is too familiar then be adventurous and go for a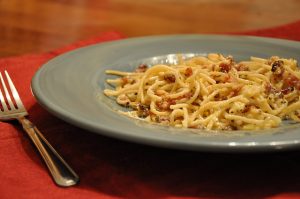 'quinto quarto' (firth quarter) dish – in other words: offal.
You'll find these traditional meals especially in the Testaccio neighborhood (former home to the slaughterhouses). A few Roman offal dishes to watch out for (or maybe to avoid) on the menu are: pajata (suckling kid, lamb or veal intestines), coratella (heart, lung and oesophagus of lamb or kid, sautéed with artichoke) and testarelle (whole roasted lamb's or kid's head).
Augustarello (Via Giovanni Branca 98 in Testaccio) is apparently one of the best places in Rome for classic offal dishes.
Primo al Pigneto (Via del Pigneto, 46. 00176, Rome) comes with the stamp of approval from our crew who guarantee it is one of the best restaurants in town. Appearing like a modern French brasserie, it somehow merges a Spanish tapas feel with exciting Italian cuisine.
Check out any of these great bars to unwind at after a long day shooting:
Salotto 42 (Via di Pietra Papa, 42. 00146 Rome) is a cool place to be seen in the centre of Rome, filled with aspiring models, film directors and stock brokers.
Ombre Rosse (Piazza S.Egidio 12/13 trastevere Roma) is a laid back Trastevere bar with a great terrace for people watching and has a good buffet for the budget conscious.
Enoteca Ferrara – Upscale wine bar on Piazza Trilussa in Trastevere. Popular with foreigners and upscale Bohemians. Good wine selection and restaurant inside.
Film worthy events
It may not sound like the coolest instrument in town, but the V-accordion is making (or attempting) to revamp its image! In November the best accordionists from around the world come together at Rome's Auditorium Parco della Musica for the V-Accordion International Festival. Musicians are judged on their playing skills as well as creativity – pushing the traditional boundaries which associate the accordion solely with folk music!
In October Rome's film scene comes to life. Now in its 4t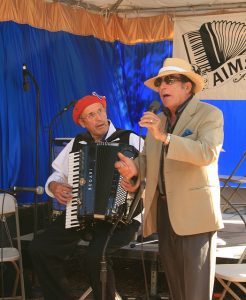 h year, the Rome International Film Festival at Parco della Musica showcases both Italian and international productions as well as exhibitions, art and cultural events. The chances of seeing international stars lurking around the Eternal city in oversized sunglasses will be very high.
The Derby della Capitale is far more than just a football game! With a history dating back to 1929 this face-off between two longstanding rival football clubs, Roma and Lazio, is the fiercest in the land. The derby's glorious and shameful history casts a shadow of tension over the stadium as the city is brought to a standstill during the match – and when the final whistle blows, both extremes of the passionate Roman spirit are on display for all the world to see.
Photos from Flickr by:  Diesel Demon / Kimberlykv / Giampaolo Macorig / Sergey Gabdurakhmanov