Documentaries, Entertainment or News Programming – whatever your TV format, our crews have the experience!
Live broadcasts and transferring urgent footage won't panic us!
Documentaries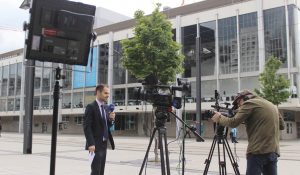 We have a large network of talented and experienced camera crews in Germany and Europe specialising in documentary films for international television stations.
We are BBC approved which guarantees the highest technical standards.
We cater to clients who need live broadcasts and provide both SNG and LiveU facilities throughout Germany and Europe. We appreciate the importance of your deadlines! If time is too tight to edit in our studio, we'll edit on the move and use the latest technology to transfer urgent footage via FTP or SNG.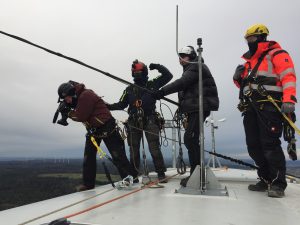 Breaking News
Our friendly, English speaking camera crews are available throughout Germany and Europe, on call 24/7, so when news breaks we can alert our producers and camera operators and they will get on the job immediately.
Remote interviews
If you need to interview someone miles away from your office, we can conduct the interview and send you the footage. This saves not only your valuable time but travel and accommodation costs, too. Alternatively you call in and conduct the interview yourself via Skype or phone. We not only provide the camera crew but the interviewer / producer too.
Language barriers
Don't worry about language barriers – our crews are multilingual so you don't have to be! And because we are native English speakers, nothing gets lost in translation.
Formats and equipment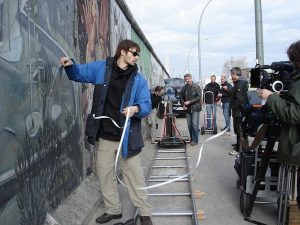 We shoot in all conceivable formats 4K, HD, PAL and NTSC.
We are out front there with our kit, too:
Sony FX9
Sony FS7,
Sony F5, Sony F55
Sony A7s,
Sony XDCam,
Canon C300,
BlackMagic cameras
GoPros,
DJI Osmo, etc.
We also have extensive state of the art LED lighting kits and grip equipment including sliders, gimbals, cranes, dollies, steadicam, and many more.
Locations and Fixers
Not only can we film your shoot, we can research, scout and fix it, too! Just brief us on your requirements and we will come up with the goods. We have a large network of location scouts with their own databases of locations to fit your vision and budget. We can scout the location and take photos or provide photos from our extensive database. Our location managers will also deal with location contracts.
We also offer legal videographers for depositions all over Europe.
Our crews work on documentaries, magazine programmes, entertainment and news features for a wide range of international broadcasters including:
BBC, Channel 4, ABC, NBC,
ARD, ZDF, Arte, 3sat, Rai, RTL, Fox, ProSieben, ORF,
ITV, MTV, National Geographic, Discovery and many more!
Call us now: +49 69 538690
(toll free from the USA: 1-866-843-2987)