Corporate Shoots: Our Crews – Your Production!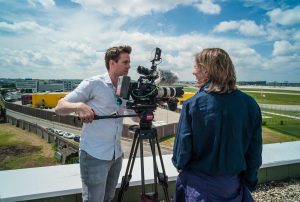 The requirements for corporate shoots are more sophisticated than regular TV shoots.
Corporate films are used not only internally or at trade fairs but increasingly can be seen on video platforms like YouTube and Vimeo, which are full of commercials and corporate videos. Production levels are high and competition is fierce. We cater to this demand!
We provide camera crews, lighting specialists & sound recordists whose skills are geared to working on corporate video shoots.
Our crews understand that corporate business requires a top level of professionalism, creativity and organisation – and in these areas we will exceed your expectations!
Planning your corporate shoot
Once we receive your enquiry we will alert our producers and directors to focus on the task ahead using their corporate production's experience to make sure your vision gets on screen in an efficient and creative way.
Language barriers
We have both native English and German speakers, so we'll work in your preferred language.
You benefit not only from our language skills but our understanding of the different cultures, which can be valuable in translating your vision across international borders.
Trust
International production companies trust our crews to work with their most valued corporate clients, such as
Microsoft, Chrysler, Mercedes Benz, Honda, Ford, Subaru,
KPMG, UBS, Avaya, Credit Suisse, McKinsey, Deutsche Bank, Hewlett-Packard,
Sony, Vodafone, Tetra Pak and many more!
Formats and equipment
We shoot in all conceivable formats HD, 4K in both PAL and NTSC. We also have extensive state of the art lighting and grip equipment, cranes, dollies, steadicam, gimbal & ronin systems.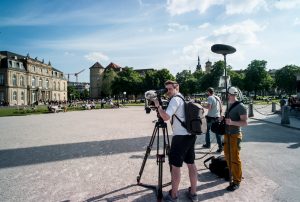 You also require a corporate film produced from start to finish? Our production arm Surridge Films can take care of it! We can provide all services from pre production, planning, shooting, right through to the final edit! Our producers, fixers and location scouts are happy to support you with your upcoming film project!
A few of our specialties:
We provide all the man-power and equipment you need to create visually impacting professional corporate films.
We record and televise live conferences and webcasts, and create highlights-packages to be watched afterwards on the internet/intranet.
We shoot ready-to-broadcast video (for example, of interviews, events or important company announcements) – this makes life easier for television journalists and helps companies secure the news coverage they're after.
We also provide media training for executives in the public eye.
If you are looking for a crew or cameraman in Frankfurt we have a wide range of services to offer: Cameraman Frankfurt
Call us now: +49 69 538690
(toll free from the USA: 1-866-843-2987)