Looking for a legal videographer in Germany and Europe? You have come to the right address!
Legal Videography and court reporting has been used for a long time in the legal field and is still being used today. Recording depositions offers a lot of benefits such as
having a permanent record of what was being said: legal videographers record statements, questions and answers before the trial acting as proof in court. If a case goes on for a long time, a recorded deposition can help to refresh the jurors' minds and you will have proof for statements that may be denied in court.
building a stronger connection with jurors in court: jurors are more likely to retain information that they see as opposed to information they only hear.
saving costs: having a U.S. based videographer travel to Europe when a witness doesn't reside in the USA can cost a lot of money (flights, excess baggage for the kit, hotel costs, etc.). Having a local videographer on site with local knowledge and language can help save a lot of money and be much more efficient!
We have built up a strong reputation as leaders in Legal Videography in Europe.
We have been working in this specialised field for over 20 years and we know it requires the highest degree of professionalism.
We have recorded European depositions in
consulates,
hotels,
law firms
and offices
and our skilled videographers are flexible enough to achieve top results in any of these environments.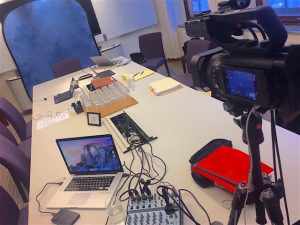 Our Legal Videographers are:
American-trained and totally familiar with the atmosphere and protocol of depositions hearings.They are committed to the Rules of Procedure in all reporting jurisdictions.
We are your trusted contacts for legal proceedings taking place anywhere in Europe. Our crews' communication skills won't let you down – we have native English speakers so nothing get's lost in translation!
We shoot Legal depositions in NTSC according to US specs and Federal rules.
The recording will be delivered promptly, stamped with time and date.
We record digitally on parallel devices as a backup.
We shoot against a neutral backdrop for a consistent clean appearance.
We use high quality lavaliere microphones and a 6 channel sound-mixer to ensure voices are heard clearly and background noise is minimised.
All our equipment is state of the art and maintained to the highest degree.
We will upload the files afterwards to your server. And we take care to make sure all footage is playable on American devices.
We know how important video is in presenting your witnesses to jury and our videographers will apply all their skills to assure you get the best results! We are committed to providing the highest quality in both image and sound recording and guarantee top results.
Call us now: +49 69 538690
(toll free from the USA: 1-866-843-2987)