London has been called "a world in one city"
…a melting pot, a multicultural metropolis, and yet the stage on which the hustle and bustle is set screams of quintessential Brit-ness.
With a population of 7,556,900 (2007 statistics) there are literally millions of reasons for you to be filming in London! From Camden town's alternative crowd at the funky street markets, to bankers in suits pacing around "the Gherkin" there are a myriad of diverse locations for your shoot.
Weather
Expect grey overcast days and you'll be pleasantly surprised if the sun comes out! Drizzly rain is possible all year round and the climate is fairly temperate with average highs of just
22°C in Summer's hottest month (July) – in saying that, when a heat wave hits it gets stinking hot in this concrete jungle! In winter temperatures rarely drop below freezing, but dark gloomy days are the norm, with signs of dusk from 3pm!
Emergency Contacts
For Police, Fire or Ambulance call: 999
The single European emergency number (112) also works in the UK.
The following are central hospitals with 24-hour accident and emergency clinics:
St Thomas' Hospital
Westminster Bridge Road
London SE1 7EHTel: 020 7188 7188
University College Hospital
235 Euston Road
London NW1 2BU
Switchboard: 0845 155 5000
Tips for Travelling
The tube is a great way to get around, but don't be caught out – the last trains operate from 23:30-00:30 (Mon – Sat) and 23.00-00.00 (Sun). London public transport is expensive so get a daily or weekly travelcard to save money if you plan to travel a lot.
Hollywood Locations
If you happen to be in Notting Hill, watch out for Hug
hGrant's travel bookshop: Gong, Portobello Road, Notting Hill, London W11.
London's cityscape is incredibly versatile – many of her features are portrayed in movies as distant locations, for example, hang a few Russian flags from the Langham Hotel (at the top of Regent Street) and it suddenly becomes 'Grand Hotel Europe' in the Bond film, Goldeneye.
Likewise Goldeneye uses Somerset House on the Strand as the St Petersburg square. The same location also acts as the Ministry of Defence in Tomorrow Never Dies and as turn-of-the-century Manhattan in Sleepy Hollow.
Food and Drink
Typical English food may not be the most exciting of fare, but a warm stodgy meal in a cosy traditional British pub is a great reward after a long day's shoot. You won't have to walk far to find a pub, just follow signs saying "the king's arms", "the cock and bull"or "the cat and the fiddle" and you'll be on the right track.
If you have a time in the morning head out for a hearty traditional English breakfast to sustain you through the day – Eggs, bacon, sausages, mushrooms and baked beans.
Roast Beef and Yorkshire pudding – the meat is roasted in the oven for a couple of hours until tender and flavoursome. It's served with potatoes, carrots and Yorkshire pudding (a savory pastry made from a batter of flour, eggs and milk). Gravy (sauce made from meat juices) is then poured lavishly over all elements of the meal.
Shepherd's Pie – minced lamb and cooked vegetables topped with mashed potato.
Fish and Chips – that is, fish deep fried in flour batter with greasy potato chips, served with malt vinegar ? is great for an eat-in or takeaway meal.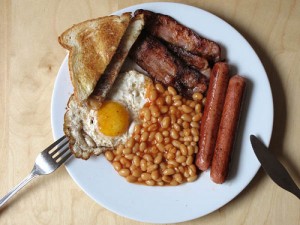 For the typical English pub experience, here are a few suggestions:
The Dog and Duck (18 Bateman Street, Soho, London, W1D 3AJ) has been on the same site since 1734. It serves traditional pub food and has a wide range of real ales.
Seven Stars (53-54 Carey Street, Holborn, London, WC2A 2JB) survived the Great Fire of London and also celebrated it's 400th anniversary in 2002.
The Nell of Old Dury (29 Catherine Street, Covent Garden, London, WC2B 5JS) looks and feels exactly how you would expect from an English pub. Just across the road from the Theatre Royal Drury Lane, this pub is popular with the literary and thespian folks.
If typical British dishes don't appeal, then fear not, you'll find every style of food under the sun in London.
Film Worthy Events
Usually in July the Mobile Phone Throwing Championships takes place in Greater London. The aim of the game is to hurl old cell phones as far as possible. And what's the point? Create a picture of Western wastefulness, recycle and donate old phones to third-world countries. 75 million of them are apparently lying dormant in cupboards and drawers across the UK. Put them all in a row and they'd stretch the length of the Great Wall of China almost five times over!
In August the streets of Notting Hill are awakened by colourful floats blastin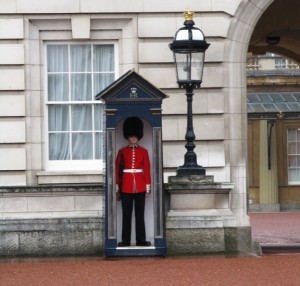 g out heavy bass beats. Swarms of people groove for two days straight to the Caribbean vibe of the Notting Hill carnival! The history of this event is also worth reporting – initially an antidote against the depressing state of race relations in the late 50's, and marred by riots in the 70's, Notting Hill Carnival has come a long way in achieving its purpose of promoting cultural diversity and unity.
Pomp-and-ceremony take over for The Lord Mayor's Parade in November, with fireworks display over the Thames to top it off! As the tradition stands (since the year 1215 no less!) the new Lord Mayor of the city of London must pledge allegiance to the crown at the Royal Courts of Justice. The highlight though, is his journey in a golden coach with a 6000-strong parade!