The capital and largest city of the Netherlands is both trendy and charming – a great place for shooting corporate films, documentaries and everything in between.
Amsterdam is known for canals, coffee shops, possibly the world's most famous red-light district and being home to more bicycles than people
Weather
Amsterdam is said to have four seasons in every day and while that's not entirely true, it does pay to prepare for thunderstorms even when filming in summer! Being close to the coast and low-lying makes this city the target of rain showers. Average temperatures range between 16.6°C (62°F) in July/August and 2.7°C (37°F) in Jan/Feb.

Hollywood Trivia
In the summer of 2004 scenes of Oceans 12 were shot in "The 9 Streets" district (aka De Negen Straatjes -the heart of Amsterdam's canal district and one of the city's best shopping areas). The gang in the film stayed at the Pulitzer Hotel preparing for their heist.
Language
Most Dutch people are quite comfortable speaking English, but "making an effort" never goes astray no matter which country you are visiting. We've put together a few useful questions and phrases to help you impress the locals while shooting in the Netherlands:
Hallo, hoe gaat het?
Hi, how are you?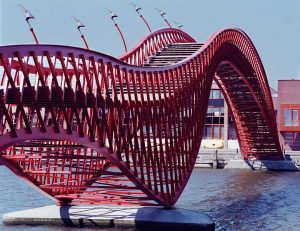 Kunt U vertellen waar het toilet is?
Where is the toilet?
Kunt U mij vertellen waar een bar is?
Where is the nearest bar?
Excuseer mij, we zijn aan het filmen, kunt U uit de weg gaan alstublieft?
Excuse me we are filming, could you please move out of our shot?
Vindt U het erg om gefilmd te worden?
Do you mind if we film you?
Ik vindt U erg leuk!
I really like you! (In case you're up for a bit of flirting with the locals!)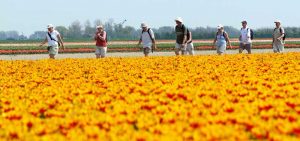 Emergency Contacts:
Emergency/Fire/Police: 112
Amsterdam Police (Non-urgent): 0900-8844
Central Police Station:
Beursstraat 33
Nieuwezijds Voorburgwal 104
Keizerstraat 3
Lost and Found station:
Tel: 020 5593005
Stephensonstraat 18, near Amstelstation
Directory Assistance:
0900-8008 (Netherlands)
0900-8418 (International)
Food & Drink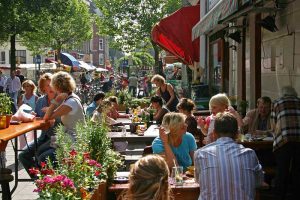 If you're overwhelmed by the food-options and want a local speciality that comes with our crew's stamp of approval, scan the menu for the following dishes: Uitsmijter (3 eggs fried with ham on white bread) or Boerenkool (a primitive variety of cabbage called Green Kale with stamped potatoes and a smoked sausage called a "rookworst").
After a long day on your feet, the best places to unwind with a drink include: Freddies Place at Europe Hotel, Nieuwe Doelenstraat 2, 1012 Amsterdam; or Cafe 't Smalle, Egelantiersgracht 12, 1015 Amsterdam.
Film-worthy locations
Shooting from and around the canals makes for fantastic footage! The Canal Company has small electric boats for up to 12 people which can maneuver where the bigger canal boats can't. You can hire by the hour and at the weekends one of our cameramen, Peter Gest may be able to double as your captain!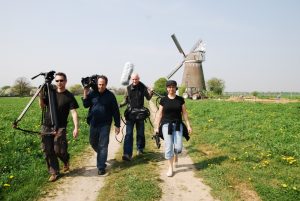 The former houses of Anne Frank (in Amsterdam) and Corrie Ten Boom (in Haarlem) are steeped in history and fitting locations for factual tv production. Remember, if you just require a snippet of footage or an interview to add to your film or programme, we can take care of it without you even entering the country!
Just a stone's throw away
A variety of diverse locations in close proximity is this region's strength. One minute you can be filming in a densely populated bustling urban zone and 45 minutes later you can reach sand dunes on the edge of Kennemer National Park. The quaint fishing village of Volendam is also easily accessible from central Amsterdam in half an hour.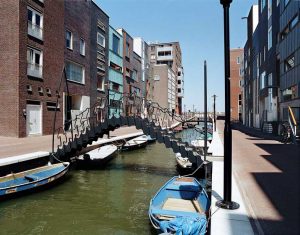 Just an hour's drive away is The Hague (Den Haag), a very familiar location when it comes to live broadcasts. Covering high-profile court cases at the United Nations' International Criminal Tribunal is not always easy without experience. Filming is not usually allowed inside the tribunal buildings and there are limited spaces for SNG trucks close by, so it helps to get things set up and organised with plenty of time to spare.