Towering skyscrapers distinguish this city from the rest of Germany!
But despite the footprint of business and banking, Frankfurt's Altstadt (Old Town) maintains its charm. Frankfurt-am-Main is home to one of Europe's largest stock exchanges, and its airport processes over 50 million passengers per year. Trade shows are another leading reason for filming in Frankfurt, with the Messe (exhibition center) hosting some of the most newsworthy expos in the world!
Weather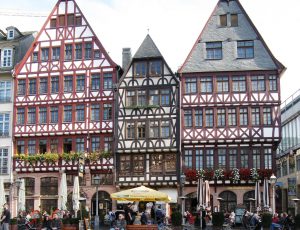 Summers are generally fine and warm, peaking in July with average temperatures around 19°C (66.2°F). In recent years winters have been so extreme that at times, filming outdoors in comfort has been almost impossible. Average temperatures hover around 1°C (33.8°F) in January.
Star Trivia
Not everyone knows of Elvis Presley's affiliation with Germany, but he spent a few years of his life living in Bad Nauheim, a small spa town near Frankfurt, while carrying out his army service from 1958-60. If you want to pay his old home a visit, you'll find it at 14 Goethstrasse. He also stayed four months in the nearby Hotel Grunewald. A huge sign outside the hotel reads 'Elvis Presley wohnte hier' (Elvis Presley lived here) and both inside and out you'll find Elvis memorabilia. The hotel is no longer in business but it was once possible to rent Elvis' bedroom and sleep in hisbed!
Language
Hi, how are you?

Hallo, Wie geht's?
Where is the toilet?
Wissen Sie, wo ich eine Toilette finde?
Where is the nearest bar?
Kennen Sie eine Bar hier in der Nähe?
Excuse me we are filming, could you please move out of our shot? Thanks.
Entschuldigung, wir sind gerade am filmen – können Sie bitte einen Schritt zur Seite gehen? Danke
Do you mind if we film you?
Macht es Ihnen etwas aus, wenn wir Sie filmen?
Watch out!
Achtung!

Emergency Contacts
Police – 110
Fire and Ambulance – 112
Emergency Medical Center – 0691 92 92
Emergency Pharmacy – 069/115 00
Food & Drink
Grüne Soße (Green Sauce) has a rich cream or mayonnaise base with herbs, including cress, chives, sorrel and parsley) often served with potatoes and boiled eggs.
Handkäs mit Musik, is a kind of curd cheese with raw onions, oil and vinegar, usually eaten with bread. Beware if you're not a fan of strong flavors and if you'd rather avoid the resulting "musical" aftermath.
The must-try beverage in Frankfurt is a traditional clay pitcher of apfelwein – a German variant of cider made with apples. It has an alcohol content around 5%-7% and very sour taste.
For an eatery with the traditional specialties and décor to match, head to:
Apfelwein Wagner, Schweizer Straße 71, D-60594 Frankfurt
Atschel, Wallstrasse 7, 60594, Frankfurt (Sachsenhausen)
Zur Sonne, Berger Str. 312, 60385 Frankfurt (Bornheim)
If the local dishes above don't take your fancy and you're after variety, Orfeo's (arthouse cinema + international food) is close to the Messe (trade fair) – Hamburger Allee 45, 60486 Frankfurt.
Film-worthy Events
The IAA (International Motor Show) takes place at the Frankfurt Messe in September. With around 700 Exhibitors, 60 automakers and 170,000 square meters, this is no small-time event. Almost every major and minor automaker come together under one roof to unveil the latest and greatest cars while the world is watching. This event is massive and can be overwhelming for anyone unfamiliar with the venue and deadlines to deadlines. Our headquarters are just a few minutes walk away – we've filmed at this event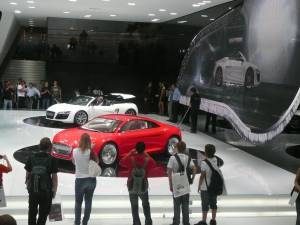 many times and know the venue well!
Frankfurt Book Fair – with over 7,300 exhibitors from 100 countries, 299,000 visitors and over 10,000 journalists,?this is by far the most important marketplace for books, media, rights and licenses worldwide! Every October publishers, writers, readers and journalists converge on Frankfurt with one cause at heart – books! Computers may be taking over our lives, but tangible books with pages will never die!