Whether you need a crew with a portable green screen or an entire studio set up – you've come to the right address!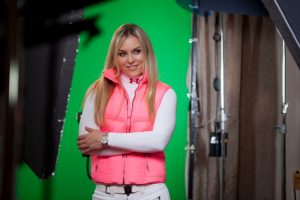 Portable Green Screen
Filming testimonials at a remote location can often be a challenge. Invariably you will not really know what the shoot location looks like in advance… It could be a bare walled conference room, an overcrowded office or an unattractive meeting room.
Trying to make locations like this look appealing is an unknown quantity and takes time, and most productions are short on time.
In order to play safe and make sure you get the look you require that's within your budget then a portable greenscreen is THE solution.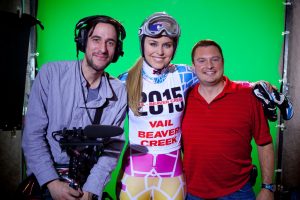 These days edit programmes are very forgiving on the whole green screen process – the keying and compositing processes are getting simpler and simpler!
Portable green screens in the shape of photographic chroma green backdrops, chroma green fabric or Lastolite pop ups are easy to implement. We also offer alternatives to green screen solutions such as backdrops in other colours as well as a blue backdrop.
The majority of requests we get are for head and shoulders testimonials or interviews and setting up a portable greenscreen and lighting it evenly can easily be done by a standard sized camera crew. It's stress free, time saving and basically fool proof.
In addition to a portable greenscreen we also offer corporate crews to put your vision into action. They will not only film your green screen interviews but also a variety of backgrounds as well as plenty of b-roll to help you edit your next corporate film.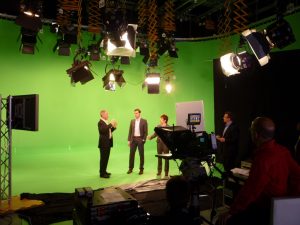 Green Screen Studios
If your shoot requires larger green screen coverage then you've come to the right address!
Head to toe shots and larger set ups are easy to shoot in our green screen studios, which all have cyclorama walls for seamless backgrounds.
We have an extensive database of green screen studios throughout Germany and Europe with state of the art facilities talented staff and a wide selection of camera equipment.
Green Screen Basics
Follow this link which explains the basics of setting up a portable green screen, what's needed and how to calculate exposure:
Virtual Reality Studios
Virtual Reality (VR) is the new buzz word in our industry and this process is inconceivable without greenscreen.
Our studios have all the technology necessary to produce Virtual Reality programming and we invite you to contact us for a competitive quote.
We are a one stop shop for your production offering not only a fully equipped studio location but a complete crew as well:
sound technicians,
gaffers,
grip, etc.
Call us now: +49 69 538690
(toll free from the USA: 1-866-843-2987)