As technology has evolved – so have we!
Meetings and conferences are no longer restricted to whoever's sitting in the room. Delegates can now attend conferences virtually, from the comfort of their own home or office anywhere in the world. And we can help make this happen!
Thanks to today's technology webcasts are becoming more and more popular. Live streams are easily available on all manner of mobile devices. There has been a rapid development in webcasting technology as well, bringing it into the public domain and making the whole process more streamlined and affordable.
We facilitate webcasts and virtual 'townhalls' using multiple camera setups and live editing. We can provide the necessary steaming as well as streaming platforms for any number of viewers.
Each webcast will be catered to the client's needs and preferences.
Let us be the link that enhances communication with your customers, staff, stake holders, advisors or supporters.
Whether it is
a CEO addressing a global workforce online,
public seminars,
board meetings,
roundtable discussions
or a panel linked together in different locations with audience interaction
…we'll tailor the solution to suit your needs!
We believe communication should continue long after the webcast is over. We'll provide you with the edited recording and we can also create a shorter highlights-package to be viewed on your website or intranet.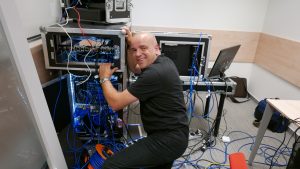 Our webcast crews include:
vision mixer engineers,
video directors,
streaming technicians
as well as camera operators,
sound recordists,
editors, etc.
They will scout the location in advance to make sure all the necessary equipment and logistics are in place. On the day prior to the event we will set up our "control area" consisting of vision mixer, recording decks and master control unit. Parallel to this our riggers can install any necessary staging, lighting and monitoring systems.
Our audio technicians will then get to work on the public address system, the radio mics for the presenters and audio mixing desk.
Finally, once this is all in place our camera operators can install the cameras and rehearsals can commence.
Be reassured – our camera crews are certainly not strangers to this game. We only work with hand selected, highly skilled and experienced webcast crews.
We've provided major webcast sessions all over Germany and Europe for multinational companies like
AT&T,
Unilever,
Deutsche Bank,
Vodafone,
BP and many more.
You can entrust the filming of your next webcast to us!
Call us now: +49 69 538690
(toll free from the USA: 1-866-843-2987)