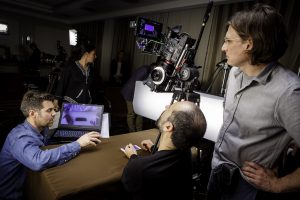 After a fairly slow moving July when most people are on holiday things started hotting up mid August with a wide range of shoots throughout Europe.
We crewed and shot a wealth of corporate films and documentaries with small crews, like fixers, drivers and PAs to full blown production crews with all the bells and whistles: production managers, DOPs, additional camera operators, sound recordists, DIT experts, make up artists, gaffers, grips, set designers, translators, autocue operators, photographers and trucks full of state of the art camera kit!
Apart from the ever so popular drone requests, green screen seems to have come back in fashion as well as webcasts and studio shoots too… So you can see we have have had our fingers in many, many pies. Most of them from UK and USA based clients but also the odd request from other European countries, too.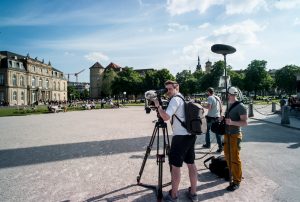 An interesting and important part of our work is concerned with shooting permits which are particularly necessary when shooting in public places. The most recent was for Frankfurt where we were shooting a drama for a US TV outfit. We needed permission from a wide range of local parks here and public squares. Bridges too, where actors and talent needed to perform. All in minute detail listing the exact places and times and this is not something that even the best directors can determine in advance.
This leads on to another area which is becoming very topical for all filmmakers: drones and their permits. We've just completed a big shoot for Italian TV RAI in both Germany and the Czech Republic where drone permission was required flying over all public spaces, and usually these spaces aren't just covered by one authority so a lot of prep time is needed.
All our drone operators have official licenses and they quite naturally insist on all the right permits otherwise they'll lose their license.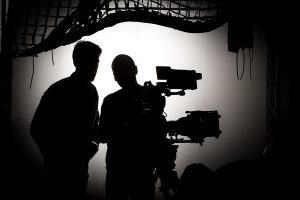 We often have to disappoint clients when it comes to short notice drone requests. For example, a recent request we had for a drone in Munich. What the client didn't realise was that the Octoberfest was in full swing and it prohibits flying within a 3 mile radius of the main action there on the Wiesn.
We also get requests to fly over cities, along railway lines, near airports… These are all no go areas, which is disappointing for the visuals but that's life.
Last but not least we are currently providing crews at the Paris Motor Show. We often receive requests from our clients to provide crews in France and we are always happy to provide these services. However, all countries have their own ways of working of course and France is no different. The working days are usually 8 hours instead of 10 and food is very important for them so we always prepare our clients to get ready for lengthy lunches. Bon appetit! 🙂