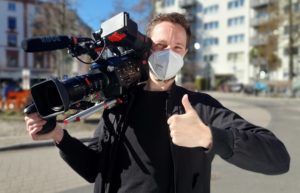 You are looking for a local camera crew or production support for your next shoot in Germany or Europe? Shooting abroad can be a challenge but we are your one stop shop for your crewing needs – here are 9 reason why you shoud try us out:
Camera Crew Germany was established in 1993 and we are the oldest English speaking crewing company in Germany. Over the years both we and our crews have had to adapt to so many incredible and wide-ranging changes within the film industry. We certainly know the ropes!
Apart from ongoing and constant technological changes, one thing remains constant and that is where we excel and this is of paramount importance for us: it is our dedication to close and friendly client relations. We value and encourage close relationships with all our clients, and this personal approach not only promotes mutual trust and understanding but makes the whole film-making process more enjoyable.
Cultural differences between countries and continents add colour to doing business internationally and this is something we have embraced over the years and it's always enjoyable meeting new people from far and wide.
We have a wide network of hand picked creatives throughout the whole of mainland Europe and the UK. Whether you need a crew in London, Berlin, Amsterdam or Geneva – we've got it covered. Our crews are reliable, experienced and highly creative. We know what you want and how to get your vision on screen. All our crews are bilingual so nothing gets lost in translation.
We are based in Frankfurt – the heart of Europe. With its impressive modern skyline, juxtaposed by the historic old town, it makes for a vast range of impressive shooting locations. The area is known as a hub for multinational companies both large and small. From here you are also close to a large number of surrounding towns, open nature, picturesque river locations and cultural diversity. Furthermore our location scouts, with their depth of local knowledge, can source your dream location.
We have built a large client base from all over the world who continually return to us for their crewing needs in both Europe and Germany. We greatly value our long standing clients and wholeheartedly welcome new ones. Nothing is more important to us than a happy client that gets the footage they want. Check out our testimonials and convince yourself!
We work with state of the art equipment and have access to the latest kit – whether its in the camera, lighting or grip department – you name it we've got it! We also have long standing partnerships with the best equipment rental companies throughout Germany and Europe and can provide competitive rates for renting additional camera, grip and lighting kit.
No shoot is too big or too small for us. Whether you need a one man band or a full blown camera crew with all the bells and whistles, we are happy to cater to your needs. We have built a large crew network of producers, DOPs, sound recordists, grip and lighting crews as well as make up artists, catering companies and much more.
We're simply the best! With almost 30 years of experience you just can't go wrong when you partner with us. We've been working with a wide array of international clients – big and small – for many years now and know exactly what's important to you. Get in touch now for a quote and we can put your next project into action!
Call us now: +49 69 538690
(toll free from the USA: 1-866-843-2987)