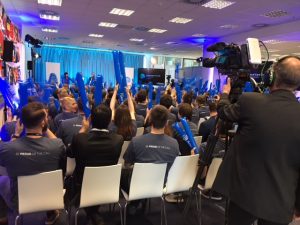 We enjoy an ongoing relationship producing webcasts for the American communications giant AT&T. This time we were in the picturesque and historical city of Brno in the Czech Republic.
Setting up webcasts abroad is always full of surprises and challenges, particularly when you are dealing with people from a different culture speaking an unknown language. Our core technical team, consisting of cameramen, vision mixer, sound recordist, technical assistants and all the necessary kit came from Berlin, the production crew from Texas. Communicating in English and German works very well but in the Czech Republic the major foreign language is Russian.
However, with a little practice, language barriers can be overcome using hand signals and body language. We even managed to hire some additional technical equipment from a Brno based AV specialist using hands and feet to explain our needs and hard cash to clinch the deal.
As in so many areas of professional film production it's expected we command the highest levels of technical expertise, creativity, friendliness and reliability. In order to complete the picture though the ability to think on your feet, trouble shoot and improvise are paramount.
After weeks of planning and preparations we transformed the Brno AT&T facility into an attractive "Town Hall" venue and the live stream reached a large international audience without a glitch. Key speakers reached out to the AT&T workforce with a variety of presentations and individual awards. To round it all off a traditional Czech folk music trio performed rousing and colorful dance acts.