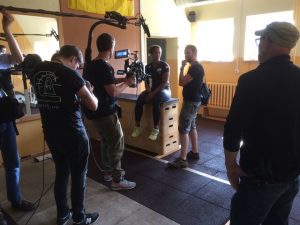 We recently got a request to provide a support crew and kit for a UK company who are producing a clip for Google which explains how YouTube can be a valuable educational tool.
The German bobsleigh 2018 winter Olympic gold medallist Mariama Jamanka studied YouTube clips of the track at Pyeongchang in advance of the event, which she – as a rank outsider – then won to everyone's surprise. The core crew of director, producer and
DOP
came from the UK and we provided a gaffer, grip, sound recordist, PA, driver,
lighting and grip kit
. We often get similar requests from production houses and broadcasters worldwide who are keen to save on travel and accommodation costs wherever they can. They often send their own creative crew like director and DOP and rely on local talent to supply the rest of the
production crew
, especially when you are thinking lights and grip which are too bulky to fly around the world. Furthermore our
crews are bilingual
so the clients get a free translation service.