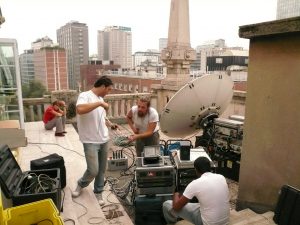 When it comes to live broadcasts, we know the importance of getting it right the first time. We understand there is no room for technical hitches or human error.
SNG and OB Trucks
We can organise SNG and OB trucks for live broadcasts anywhere in Europe. Satellite uplinks, downlinks and playouts from any location – just say the word and we'll sort it.
From planned conferences and sports events to breaking news, we'll arrange quality equipment and experienced operators that meet your needs and exceed your expectations.
Live reports, interviews, game-shows, conferences and concerts – if you're after live action, we'll make it happen. We'll give you the best-take first off, because sometimes there's no such thing as take-two.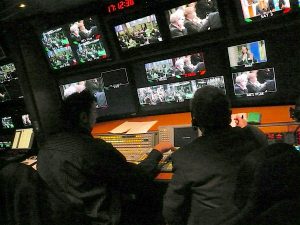 Our state-of-the-art satellite trucks bring your breaking news live on screen and ensure a high-quality and secure satellite connections. They transmit and receive MPEG2/MPEG4 signals that are compliant with applicable EBU standards.
Depending on the production volume our satellite trucks travel with a production truck including camera operators with kit, sound equipment and additional crew such as make up artists, producers, etc. upon request. Multi camera productions and live mixing for remote television broadcasts are no problem for our experienced crews!
Whether it's a sports report, a live show or political statements – we can offer the appropriate production equipment to ensure a high quality broadcast.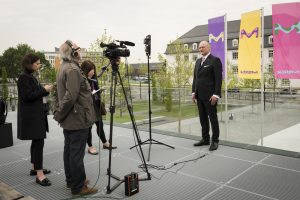 Live Unit backpacks
Broadcast your interviews and news items in real time all over the world!
Live Units are a simple and cheap, yet very reliable alternative to SNG trucks. Live Units come in various sizes and all offer a high standard when it comes to live video coverage – whether you want to broadcast in HD or SD.
We have many experienced LiveU operators in all major cities of Germany who come equipped with a camera kit, lights and sound equipment as well.
We have been working with major TV broadcasters on many successful live shoots broadcasting important announcements and breaking news.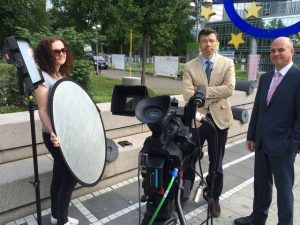 Live Units are now standard in most news gathering operations and the technology has become so sophisticated they can virtually guarantee a signal in the most remote locations as well as in very crowded areas wth high mobile data usage.
Another advantage is the battery operated LiveU system allows you to broadcast without an additional power supply.
Contact us now for a quote – you won't regret it!
Call us now: +49 69 538690
(toll free from the USA: 1-866-843-2987)