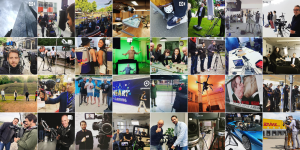 Before the holiday season comes to an end we would like to extend our warmest wishes and heartfelt thanks to you, our clients, our colleagues and our friends for making 2017 such a spectacular year for us at CCG.
You, our clients, kept us on our toes with a wide variety of exciting projects involving our camera crews and production services on film projects throughout Germany, Europe and the UK. You not only requested full blown camera crews with all the bells and whistles but regularly requested individual crew members like gaffers, sound recordists, fixers, producers, researchers, drivers, PAs, runners and location managers.
Your words of praise and returning custom have fired us on to provide the best production services and camera crews around with a wealth of talent and dedication. We've had a tremendous amount of fun and invested lots of blood, sweat and tears making the impossible possible and going the extra mile. We certainly are passionate about filmmaking and all this emotion and dedication shows in the brilliant results we achieve… And that's why you keep coming back. 🙂
Our client base has ranged from the USA, the UK, Australia, New Zealand, Dubai, Singapore, Sweden, Denmark, Italy, Netherlands, Belgium and Germany. You have requested our production services and camera crews to work for you in Germany, France, Luxemburg, Sweden, Denmark, Finland, Norway, the Netherlands, Slovakia, Austria, Switzerland, Italy, Israel and the UK.
We have kept up with fast moving trends and developments by continuously investing in state of the art camera, sound and lighting equipment, providing you with the best possible tools to make sure you get your very own vision on screen.
Furthermore, in order to cater to an ever increasing client demand for fast footage uploads our camera crews, editors and DITs are all honing their skills and coming to terms with Dropbox, Wetransfer and ftp servers.
Our multilingual camera crews are what make our services so unique because nothing gets lost in translation. We speak your language, we know what you want and we know how to implement your needs in each individual country throughout Europe. It's not only the language that changes here but the cultures and customs, too. We're on top of all this and can make your shoots run as smoothly as possible.
Finally, we're looking forward to meeting you all again in 2018 and wish you a very Happy New Year!!