You're planning on shooting your next project in Germany or another European country but are not sure how to plan your production days? You have a lot of content that needs to be covered and are wondering "How many hours can we shoot in a day?" This is a valid question which we're going to answer in this post!
Filming in Germany
When it comes to filming in Germany the rules and regulations are quite similar all over the country. A full day for a camera crew in Germany is comprised of "10 hours portal to portal including 1 hour lunch break". But what exactly does this mean? When you receive our quote for a crew in Germany it will be based on a full day rate. "Portal to portal" means the crew is also charging for getting to the shoot location. Travel time is always considered work time. This is negligible when the shoot location and the crew base are in the same town but crews often have to travel, making travel time a crucial part of their work day.
We have local crews all over Germany and in many European capitals, thereby reducing travel time for our crews to a minimum – meaning you will get the most out of our crews during a shoot day!
If it's going to be a very short shoot day we occasionally can make an exception offering a reduced half day rate (4 hrs). We have also been asked to quote for a 12 hour day when the client anticipates a long shoot day. Please note that we cannot offer hourly rates.
Filming in the rest of Europe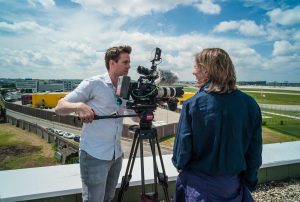 Not all countries are working under the 10 hour rule though. Many crews in Europe are working 8 hour days (including 1 hour lunch break). Please bear in mind that overtime will incur from the 9th hour instead of the 11th hour. We will of course inform you which rule applies when quoting you.
Overtime and additional hours
Overtime will automatically incur when the crew exceeds the agreed hours – whether that's for an 8 or 10 hour day. We charge overtime at time and a half. Certain countries and crews have stricter overtime rules when it comes to working on holidays or weekends. Once again this will be communicated prior to the shoot as certain countries have different rules.
You don't want your booked camera crew to go into overtime? Please notify us prior to the shoot so we can accommodate this request and make sure our crew is able to cover all that's required within the agreed time frame.
Prep time & post production
Depending on the scope of a shoot there will be prep time for certain members of the crew. Requesting a director or producer will most certainly mean adding at least half a day for their preparations to make sure they're well prepared for their tasks. Camera checks, location scouting, rehearsals and loading always mean additional time for the crew. Once we receive all details from you we can include this time and cost within our quote.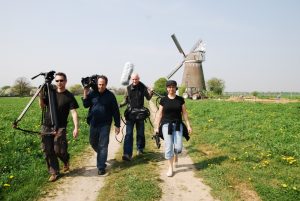 Wrapping the shoot, de-rigging all equipment and transferring the media onto a medium of your choice is another important, sometimes time consuming part of a shoot day that should definitely be factored in.
You have a project in Germany or Europe that you would like to get a quote for? Get in touch now for rates and availability!