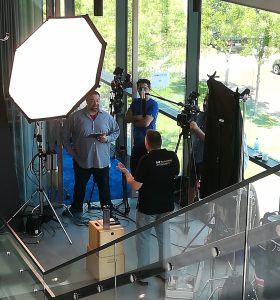 One one of our recent high end corporate shoots we used our Panaura Octodome again. It is a great light source, which is powerful and soft and gives a very pleasing circular reflection in the eyes.
It's not always convenient to use it because of its size but when there's room it's well worth going for it. We shot interviews and testimonials in Walldorf near Frankfurt for an ongoing corporate project with two Sony FS7 crews including the handy and versatile Ronin S with a Fuji DSLR for plenty of smooth moves.
Our clients were more than pleased with the footage and we thank our camera crews for doing such a great job!