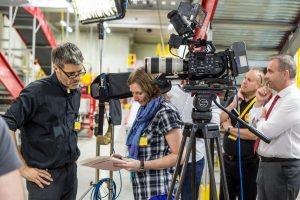 We at CCG have been shooting and producing films for many years now and have coordinated a wide variety of shoots!
There are no hard and fast rules which dictate the length of any production. However, there is one universal truth which all producers agree on: Advance preparation and organisation is paramount and the key to any successful production.
Once clients agree on a common aim and direction then the production process can run smoothly. This isn't always easy though when multiple interests need to be addressed and agreed on. However, once this fundamental stone has been laid then the logistics of shooting and editing are fairly standard and common for most productions.
The requirements are:
Determine a budget and leave room for additional costs that may incur during the planning and shooting.
Identify a production company that can shoot and/or edit according to your style.
Coordinate and oversee the pre and post production process.
Determine the number of production crew needed – camera operators, sound recordists, gaffers, make up artists, etc.
Productions big and small
Many corporate videos have a duration of between 1 and 4 minutes. If the shoot can take place in 1 location this can often be shot in 1 day. However, if you shoot in a variety of locations it could potentially take days if not weeks.
Editing a 3 minute corporate film can take between 1 and 3 weeks. If special effects are required then it takes even longer. Client changes after the first edit are common and these revisions also add to the overall editing time.
Shooting and editing "drama" and/or documentaries is a totally different ball game. The production process can easily go into several months or even years. Once the script has been agreed on then financing/funding needs to be put in place. Then the logistics of shooting and editing which can be immense.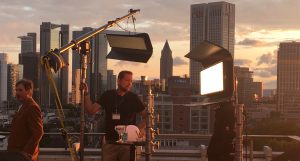 We recently coordinated a shoot for an internationally funded and produced thriller series here in Frankfurt. The edited scenes amounted to about 5 minutes in total, however, in advance, shooting permits needed arranging, streets needed blocking off, catering trucks and locations needed to be secured and talent and crew had to be be secured.
A small army of people were involved for weeks on end and the budget was very high. Not unusual for this type of show and  our part of the pre production process took several months in the end – all for a 2 day shoot! 😉
Our mainstay though is coordinating shoots for the corporate sector on a much smaller scale and with much lower budgets. The turnaround is fast but nevertheless planning is the key to success!
You have a project that needs production support? Get in touch now and we can help you turn your vision into reality!