Looking (and dressing) smart isn't just important when you're appearing in front of the camera – in the corporate world there is often a dress code for both camera crews behind the camera and for talent appearing in front of the camera!
Casusual, smart casual, business casual
We often hear from our clients that our camera crews should wear "smart casual" or "business casual" clothing when filming corporate clients. But what exactly is meant by these terms?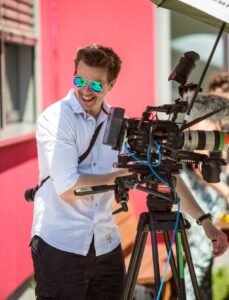 A "casual" dress code refers to the most informal dress code. Casual clothig can be a polo shirt, chino pants or jeans – no tie required!
Elegance meets sporty – "Smart casual" means no blue jeans, no shorts, no sneakers, no branded T-shirts, branded sweaters or branded caps. Ideally, crews should wear collared shirts and (dark) neutral trousers and shoes instead of sneakers. The corporate world is invariably conservative and camera crews visiting corporate clients should try to fit in rather than stand out!
"Business casual" also refers to a no jeans policy – rather than that you should dress in cloth pants or slacks, a shirt without pattern and even a tie.
Safety first!
Even if no dress code is requested by the client all crew members should not only dress appropriately but also safely! It's important to put safety – and practicality! – first.
A film set can be a place of hard labour and heavy equipment – large lighting stands, plenty of heavy grip equipment, etc. Therefore clothes should be durable, comfortable and should allow you to get into a variety of positions. Sturdy shoes are essential, too.
When it comes to colours, black is best! Although quite unlikely, whites can reflect the lights into the scene anf the rist of even a small bounce of light ending up on an actors' face should be avoided! When wearing dark colours this won't be an issue.
Needless to say when filming exteriors you should always check the weather forecast and choose your clothes accordingly. Whether you're going to film in the bright sun or at icy temperatures should definitely affect your choice of wardrobe for the day.
Dressing for the camera
There are also industry accepted guidelines for talent appearing in front of the camera.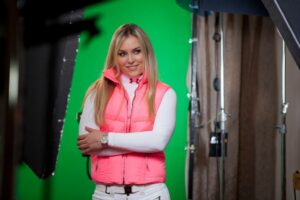 Solid black and white clothes are inappropriate as well as finely patterned, chequered or pinstripe clothing. Bold solid colours may be OK on a personal level but not in front of the camera during a corporate shoot.
The ideal colours are neutral pastel colours without large logos or branding – unless branded clothing (with company logos etc.) are specifically requested.
When it comes to being filmed in front or Blue Screen or Green Screen then you must definitely not wear Blue or Green clothing.
If possible (or unsure) you should bring a second set of clothing to the shoot.