…a very stylised, funky designer led film set in Frankfurt!
We've just completed shooting a funky commercial in a new, modern, fun loving hotel downtown Frankfurt. It was a major logistical challenge preparing and implementing the shoot due to the unusual and ever changing requirements.
BACKGROUND
We were more than pleased when we were approached by a film production company in Los Angeles who were searching for production partners in Germany. When they sent us the vision boards with their creative ideas we immediately got hooked!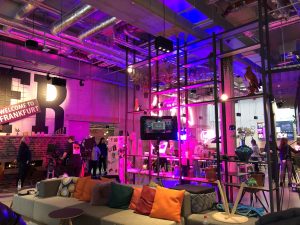 PRELUDE
After initial negotiations and getting to know each other we finalised the mutually acceptable deal. This is often a delicate affair when relatively large budgets are involved and both parties don't know each other, just communicating on the phone and via email. However, over the years we have gained a lot of experience with these type of negotiations where intuition and instinct plays a great role. Mutual understanding and trust are the basis of a working relationship where neither part meets face to face.
REQUIREMENTS
The core creative crew and agency from USA were to travel to Frankfurt and we were required to provide a large support film crew, logistics, catering, lighting equipment, film kit, wardrobe and props.
OUR FILM CREW
At relatively short notice we had to access our pool of freelancers for the following English/German speaking crew:
Fixer / Producer
Assistant cameraman
Wardrobe Assistant
Hair and Make up artist
Hair and make up assistant
Props manager
Props assistant
Production assistant / Driver
FILM EQUIPMENT
Furthermore we had to supply film lighting equipment, grip and smoke machines. Also the camera department requested lenses, tripods, monitors and a variety of other technical support devices – both from film and photo rental companies.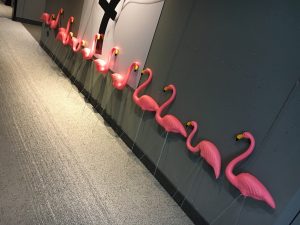 PROPS
This is where much preparation and creativity was involved. Our props manager had to access 40 plastic flamingos, pink slime, oversized cocktail glasses, retro telephones, outlandish toys, colourful wigs and so on and so on. All extremely over the top oversize items, which were needed to lend the film a stylised, slapstick, fun loving feel with a huge wow effect!
HAIR, MAKE UP AND WARDROBE
Our crew in these departments were more than happy to transform the talent with outlandish, garish outfits, wild hair dos and over the top make up.
TALENT
We connected our clients with recommended German based talent agencies which specialise in actors, extras and models. They could choose from their big databases the perfect models and extras to fit the funky feel of the shoot.
RESULT
Our clients were overwhelmingly pleased with our great crew and services and in return our crew was totally motivated, dedicated and more than happy to be part of this very unusual, fun shoot. It was one of those feel good projects which stand out from the rest.