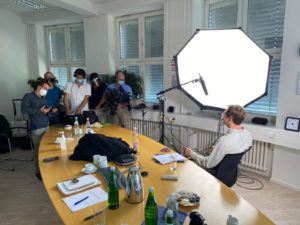 At long last new projects are now coming in and we have decided to offer online solutions to our overseas clients who are not able to travel due to lockdown restrictions.
Our crews are not only adhering to Corona safe and responsible hygiene guidelines but are equipped to stream our camera signals to Zoom, MS Teams or any other platform you require. It's an easy procedure using an interface like Aja U Tap which allows our main camera to be recognised by any laptop. The client can then interact with the subject, advise the crew on framing and lighting or replace an onsite producer by remotely conducting interviews themselves. Furthermore the client can record what he sees and do a pre edit before we we send the full resolution footage. Its fast, easy and reliable. We can also provide multi camera solutions using the Blackmagic ATEM mini pro.
We are currently shooting a stylised documentary with the Arri Amira in Berlin for a client in the USA. The creatives there are interacting on the shoot via Zoom. In this instance we are sending the signal from our camera using a wireless transmitter to LiveU, which is connected to the client's server in USA. The client sees exactly what's happening and on a separate laptop he can then interact with crew and talent.
We are using a largish crew on this shoot and they have to maintain a reasonable distance to the talent for safety reasons. Wearing masks on shoots is mandatory for the crew and all equipment is disinfected. Furthermore when shooting interiors windows have to be opened much as possible between takes.
Producing films at a professional level has taken a new turn and we are constantly adapting to these new challenges. Fortunately new technology is out there and we are implementing it to maintain our high production values.