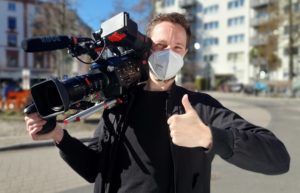 The ongoing pandemic has brought additional challenges for all of us with extended pre-production, planning, remote shooting and making sure our shoots are safe for all crew members, talent and clients alike.
Despite heavy travel restrictions we are offering our full range of services, such as:
experienced remote camera crews including producers, self-shooting DOPs and directors
remote directing via Zoom or Teams
customised streaming packages
…as well as our top notch bilingual camera crews including camera operators, sound recordists, make up artists, gaffers, and many more!
Health and Safety Guidlines
…for a COVD-free shoot!
In the last few months, since the beginning of the pandemic, we have implemented various guidelines on all shoots to ensure all our crew members and everyone else on-site are able to work safely in order to deliver the great content you are expecting!
Hygiene
Regular hand washing, using disinfectant, gloves and plastic coverings for microphones are the hygiene foundations on our shoots these days. These are all very simple, yet effective measures to ensure a safe filming environment.
Masks
Wearing masks – both when travelling and during a shoot – is not only mandatory but extremely effective. Medical masks, which are supplied to all our crew members, can reduce the chance of an infection to a minimum and make every shoot a safe environment for both our staff, clients and talent.
Keeping a distance
The 6-feet-rule has become a great rule of thumb during our shoots. Keeping a safe distance helps prevent the spread of the virus. In addition to that it's possible to set up transparent glass walls. This is a great solution for panel or interview shoots.
Remote shooting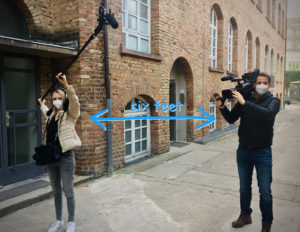 Limiting the number of people on-site can be very helpful during these times. Thanks to our experienced and creative crews a lot of clients have opted for remote shoots or remote directing via Zoom or Teams. The feedback has been very positive and it's a great alternative. It saves money on travel costs as well!
Regular testing
Covid tests prior to our shoots have become standard practice and can be requested by our clients. There are testing facilities in all major cities in Germany and they've become more and more accessible.
If you still have any concerns or would like to know about current travel restrictions and hygiene guidelines – get in touch!